RELINING OF CULLET GLASS SILO
Our Corby steel fabrications team were involved in the planning, project management, fabrication of access platform/beam trolley hoist, rolling of wear resistant sheet steel, hoisting rolled sheet steel into position and fully seam welding all joints within a heavily worn silo measuring a 5m diameter and 20m high. This silo is used for cullet glass storage, for a well-known glass bottle manufacturer in Nothern Ireland. Our dedicated project manager liaised directly with the client's management team prior to commencement with regards to reducing impact on site production and adhering to a strict time schedule
Phase 1 of the project involved the rolling of wear resistant sheet steel to the internal diameter of the silo at our in-house fabricating facility. Due to the lowest access point into the silo being 12m from ground level our fabricating team also designed and fabricated a steel structure, with a work platform for personnel access into the silo and an overhead beam to hoist rolled sheet steel onto the platform and into the silo.
Phase 2 of the project included the transportation of rolled sheet steel and work platform to site where erection of the work platform and access could be gained into the silo. Once access was gained into the silo, scaffolding was erected extending 15m up and 5m down into the silo cone to allow a safe working environment for site personnel.
Phase 3 involved the hoisting of rolled sheet steel into the silo, and up into position for welding to commence. The cone was lined in the same order with wear resistant sheet steel. Upon completion of seam welding the silo was thoroughly inspected to prepare for scaffolding disassembly and closing of access openings. This allowed the silo to be released back into site-production control and the filling of the silo.
The project was carried out on schedule while minimizing the amount of disruption to site production. All health and safety protocols, safe systems of work and lifting procedures were followed which led to an incident free outcome
Other Featured Case Studies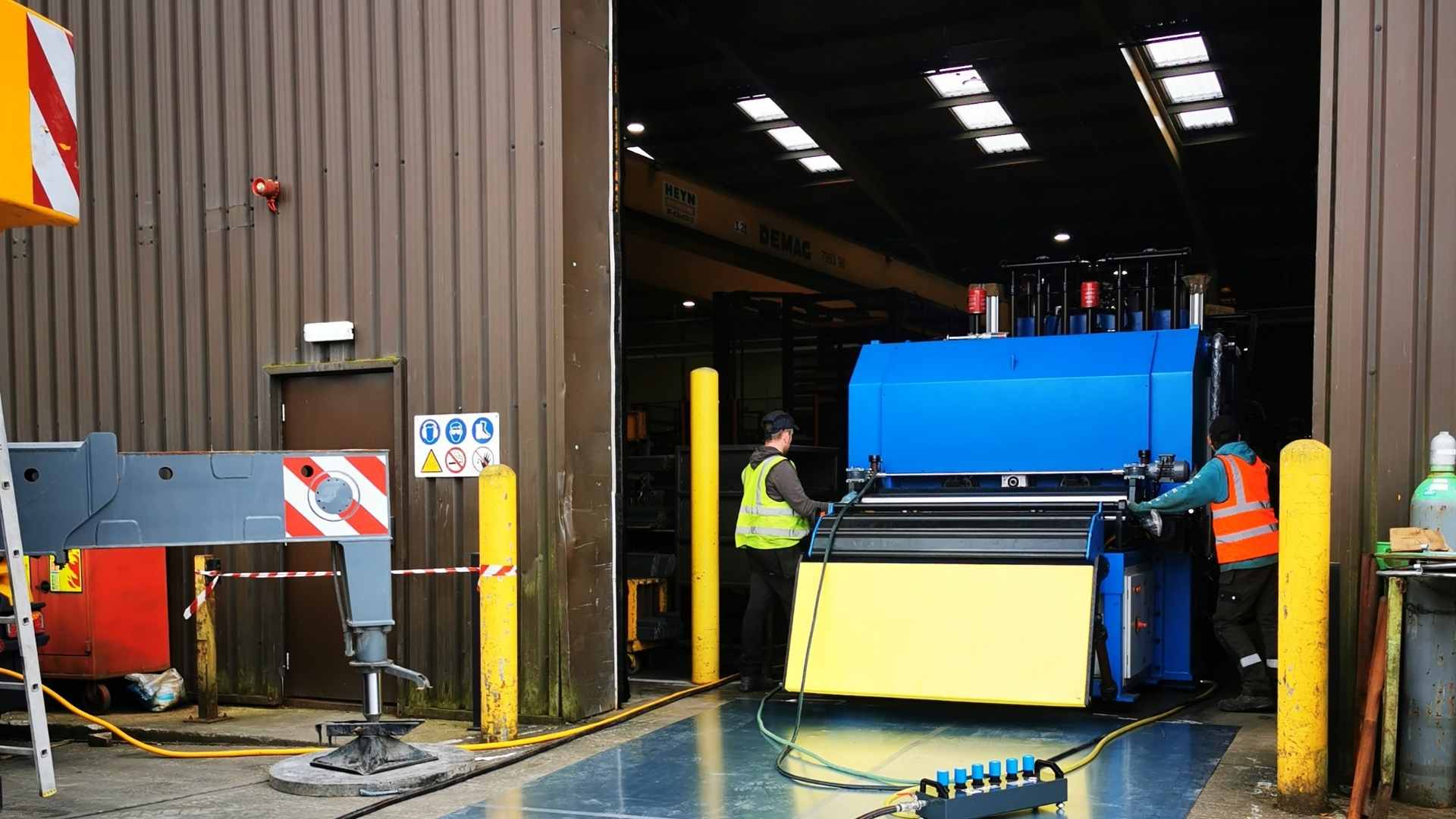 MACHINE INSTALLATION & RELOCATION
Our movers' team were involved in the planning, project management, professional rigging, skating and positioning of a new fin folding production line for a valued client. The machinery was delivered from the manufacturing facility in Turkey to the client's production site.